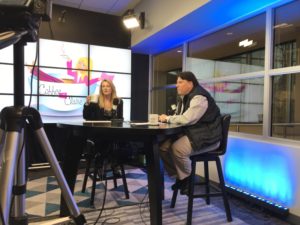 So much of our lives are marked by special occasions: engagements, weddings, milestone birthdays and anniversaries and just plain important days.
A big part of these special days and times are the gifts we give one another. Especially those unforgettable diamonds. From engagement rings to anniversary pendants to special jewelry, having a diamond at the center of the gift makes it all that more special.
Our guest today has made a career of knowing what diamond gifts work best on what occasion and for his expertise in charting the future of this fascinating industry.
You Might also like
We are all living in an age of the internet of things, big data, artificial intelligence and data security.

What is the advantage of marrying technology and healthcare?

When it comes to our health, using these technologies and concepts to improve and enhance our daily lives only seems natural.  So what does it take to have wearable bio sensors a part of our day-to-day lives? What advantage is it to have all of our health history in a digital form?

Our guest is Pete Ianace, Senior Vice President of Corporate Development at Vital Tech Innovations, and President of ComCam International.  Pete caught us up with the impact of technology on the future of healthcare. Pete knows technology and he knows healthcare.

Tune in to hear the latest on the intersection of these two fields.

Hi and welcome to Coffee with Claire!

Today's theme is going to be about resilience.

The definition of resilience is the capacity to recover quickly from difficulties; toughness.

At the beginning of anything new, there's always excitement and an adrenaline rush as you build that something that has never been built before.

You figure it out, you put processes together, and pretty soon, you have a well-oiled machine that you understand and know you can depend on.

Then, one day, you hit a snag–something completely unexpected, and out of your control.  Everything you worked for is suddenly gone.  You're left standing at a crossroads.    Which road do you choose?

Path #1 is easy.  You quit.  You throw in the towel.  You decide that the thing that happened was a sign that you weren't supposed to do it anymore anyways.

Path #2 is you pick yourself up, gather the pieces you can find, and re-invent and re-create those that you can't.  It takes time and it takes money that you didn't think you had, but you find ways to make it work.

Not everyone will pick Path #2.  It may not be feasible.  But those who are successful know there's going to be up's and downs.  You're never 100% right, or profitable, or marketable or whatever other adjective you want to inject.  However, it's the people who have resilience in their blood that are willing to try again.  Maybe do it a little differently this next time around, but it's definitely worth it in their minds.

The resilience I am speaking about specifically is Coffee with Claire, and how I came to the conclusion that just because we hit a major bump in the road didn't mean we veered off the road, took the wheels off the bus, and walked home.  Would it have been easy?  Sure.  But I wasn't done, and I wasn't going to give up.

Stay tuned, and follow the path of our show to Coffee with Claire version "2.0"

On the first episode of Season 3 of the show, Claire Billingsley sits down with Paul Maynard, Claire's Communications Director, to talk about this new beginning. But where's the new show happening? What can you expect in the new season? And where in the world has Claire Billingsley been? Tune in to find out!

 

Philip Goodrich introduces Claire to Google's Jamboard, a multi-functional presentation device. Philip demonstrated the large-screen, interactive display live on Coffee With Claire. While it looks like a basic whiteboard, it features handwriting recognition, Google search integration, allows remote collaboration and meshes the best of web capabilities with video conferencing. Look for Jamboard on future Coffee With Claire episodes.

Philip Goodrich is part of the BenQ Jamboard team. His over 20 years' of IT experience with a wide variety of platforms, applications and systems allows him to relate to his clients and their technology needs. A graduate of Southern Illinois University, he has a wealth of technology and sales experience with HP, Xerox, Sun, StorageTek and XIOtech. Philip is not only an accomplished sales person, he is also a musical performer and actor.