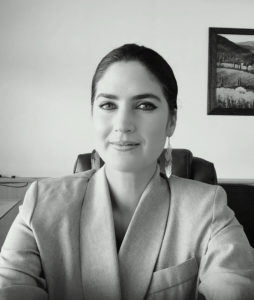 Learning to communicate effectively and exposing the world to the real you is the subject of today's episode. While IT is a key part of all of our business lives, we need to realize it is really only a tool to meet the goals we've set for ourselves.
Paola Saibene, CEO of Neuropeach Labs,  has years of experience in IT transformation and business Innovation, having held multiple CIO/ CTO/ CSO/ COO positions in government and in the private sector, including multi-billion dollar enterprises, including the State of Hawaii. She is a pioneer in transforming and innovating in organizations under tremendous scrutiny.
You Might also like
Are you listening and are you really hearing what people are saying?  Today's guest talks with Claire about how he spends time listening to business leaders and helps then translate their desires into solid business decisions and actions.

David Rose works with business leaders around the world to help them substantially grow their revenue and profits with innovative strategies and tactics. He has helped deliver over $2 billion in revenue to his clients using the proprietary methodologies he has designed.  His book, "Overcoming the Universe Of Rejections," empowers people to learn and overcome all the categories of rejection they will face throughout their lives.

Podcast: Play in new window | Download

Do you own your digital footprint?  Can you navigate in a digital world?  These are skills we are all going to need in today's world, both professionally and personally.  In this episode, Cindy Baccus covers the key things you need to know to be an effective digital communicator.

Cindy Baccus is considered an expert in the field of social media and digital marketing and currently serves as an Instructor at Collin College.  An expert communicator, having graduated from the prestigious John C. Maxwell leadership and speaking program, Cindy can make even the most complex challenge look simple. She has authored several books and has served and headed several boards.

Hi and welcome to Coffee with Claire!

Today's theme is going to be about resilience.

The definition of resilience is the capacity to recover quickly from difficulties; toughness.

At the beginning of anything new, there's always excitement and an adrenaline rush as you build that something that has never been built before.

You figure it out, you put processes together, and pretty soon, you have a well-oiled machine that you understand and know you can depend on.

Then, one day, you hit a snag–something completely unexpected, and out of your control.  Everything you worked for is suddenly gone.  You're left standing at a crossroads.    Which road do you choose?

Path #1 is easy.  You quit.  You throw in the towel.  You decide that the thing that happened was a sign that you weren't supposed to do it anymore anyways.

Path #2 is you pick yourself up, gather the pieces you can find, and re-invent and re-create those that you can't.  It takes time and it takes money that you didn't think you had, but you find ways to make it work.

Not everyone will pick Path #2.  It may not be feasible.  But those who are successful know there's going to be up's and downs.  You're never 100% right, or profitable, or marketable or whatever other adjective you want to inject.  However, it's the people who have resilience in their blood that are willing to try again.  Maybe do it a little differently this next time around, but it's definitely worth it in their minds.

The resilience I am speaking about specifically is Coffee with Claire, and how I came to the conclusion that just because we hit a major bump in the road didn't mean we veered off the road, took the wheels off the bus, and walked home.  Would it have been easy?  Sure.  But I wasn't done, and I wasn't going to give up.

Stay tuned, and follow the path of our show to Coffee with Claire version "2.0"

On the first episode of Season 3 of the show, Claire Billingsley sits down with Paul Maynard, Claire's Communications Director, to talk about this new beginning. But where's the new show happening? What can you expect in the new season? And where in the world has Claire Billingsley been? Tune in to find out!