Our family history is a major part of who we are. Being able to record or write down that history is a special thing.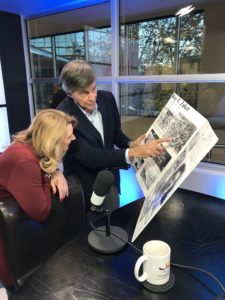 An important and impactful part of that process is capturing the memories of our senior family members. Seeing the past through their eyes as recalled in the stories they tell, makes life from another time come to life. It also helps cement a bond between generations that can't be done in other ways.
Our guest today calls his experience working with his father to write his dad's memoir one of the most inspiring times of his life.
You Might also like
The mindset of an entrepreneur is their strongest asset. It's their imagination that dreams up the idea, their strategic thinking and planning that allows the plan to unfold, and their determination and will power that gets them through the uncharted waters. It's patience and persistence that keeps them going.

However, in this fast-paced world in which we live, we don't always allow ourselves down time, we can forget to slow down and recharge our batteries. So, how do we, as entrepreneurs, keep ourselves moving forward at the speed of light, while also taking care of ourselves and get balanced?

That's where mindfulness steps in. John Edmonson, Director of Wellness and Life Coach at Healing Springs Ranch, has a fascinating approach to mindfulness and it's end goal. In today's episode, John will answer these questions and more.

On today's episode of Coffee With Claire we are learning about craft beer!

According to several reliable internet sources including Brewfanatics and the craft brewery.org, here's a compilation of the top ten reasons why you should drink craft beer.

Craft Beer tastes better.
More alcohol.
Less trips to the bathroom!
Health benefits!
More Choices.
Less Expensive.
Less Calories.
Better ingredients.
Supporting the local economy.
Environmentally sustainable.

We are thrilled to welcome back to Coffee with Claire Michael Peticolas.  Michael is a fifth-generation Texas trial attorney and owner/operator of Dallas' Peticolas Brewing Company. After practicing law for a decade, Michael turned to his passion for craft beer.  Since 2011, Peticolas Brewing Company has won numerous local and national awards, and is an established craft beer industry leader in Texas.

Stay tuned to hear more about the current craft beer buzz!

Learning to communicate effectively and exposing the world to the real you is the subject of today's episode. While IT is a key part of all of our business lives, we need to realize it is really only a tool to meet the goals we've set for ourselves.

Paola Saibene, CEO of Neuropeach Labs,  has years of experience in IT transformation and business Innovation, having held multiple CIO/ CTO/ CSO/ COO positions in government and in the private sector, including multi-billion dollar enterprises, including the State of Hawaii. She is a pioneer in transforming and innovating in organizations under tremendous scrutiny.