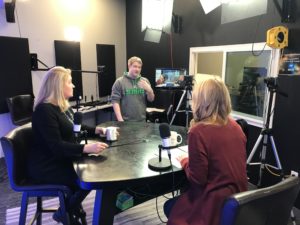 The balance between our physical, emotional, mental and spiritual health is an ongoing journey. Finding the right tools and collaborator can be a challenge for women and their families.
Taking ownership of one's health requires a holistic approach involving the care and support of our body, mind, emotions and spirit. The act of nourishing your body, energizing your brain, balancing your emotions, and reconnecting with your purpose, is worth the effort.
Our guest today has a passion for supporting women and all of the concerns they face with their physical, emotional, mental and spiritual health.
You Might also like
The High-Impact Living Series begins: Overcoming the routine life you are leading.  This episode is primer on how to make these changes.

Dr. Edward Lewellen holds an Honorary Doctorate of Divinity, Certified Master Executive Coach, Master NLP Practitioner, Master Life Coach and has an MBA in Management. He has consulted with businesses, universities, and Chambers of Commerce on value-adding business forums and topics.

What is it that drives entrepreneurs?  Why would anyone subject themselves to the crazy, unpredictable entrepreneurial lifestyle?

Entrepreneurs are an interesting breed.  They are tenacious, passionate people who really do march to the beat of a different drum.  They are visionaries, their strongest advocate, and although they have immense self confidence in themselves and their vision, they are humble enough to know when to pivot and say "this isn't working."  Lastly, entrepreneurs believe that rules are made to be broken.  The status quo is boring. They are always thinking of ten different ways to solve a problem, and by putting all of these traits to work, develop products and services that their competition says, "Why didn't we think of that?"  It's the amazing combination of using both sides of their brains to achieve what others may never have thought possible.

Here at Coffee with Claire, we celebrate the entrepreneurial spirit.  And today, our guests demonstrate how collaboration and the bringing together two totally opposite ends of the business spectrum is the perfect combination to help newly formed companies or re-designed businesses create a strong professional footprint, while staying true to their individual entrepreneurial spirits.

Stay tuned and learn how bringing two very different worlds together has found the crossroads of the soft skills of creativity and the "hard" skills of programming have created the perfect combination for success!

This episode features Sungwoo Chun of Adpop and Jonathan Kim of TechMillenial discussing their businesses and their place in a variety of communities.

The world is an ever-more complicated and intricate place with so many internal and external forces at work on our minds, our health and intellect. Knowing what is going on around us as it impacts our health is increasingly important. Cell phones, digital signals and other emitted waves are bombarding our bodies daily.

What do we need to know? How can we protect ourselves?

On this episode of

Coffee with Claire

, our guest is

Dagmar Fleming

, founder of "Unlock Your Success." She is an international success coach and intuitive healer who helps individuals accelerate their growth, life purpose, and income potential. Through her research of helping people of all kinds, she has uncovered information about wireless radiation, the difference between 2 G and 5G, and how it affects us on a biological level.

Tune in to learn more about this everyday force and how you can understand its impact on you and follow our page for new episodes of Coffee with Claire every Friday!