During storm season in the U.S., it seems no one is immune to the ravages of the weather.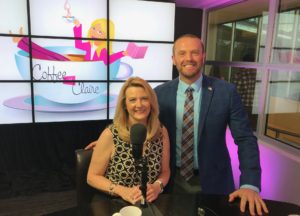 When your home and livelihood are at stake, timing is everything. And having the right coach or advisor close by can make all the difference between distress and comfort. When storm damage occurs, you not only need to be aware of what it will take to rebuild or repair your damaged property, there are regulations and laws in place that need to be taken into consideration.
And timing is everything.
Benny Wright grew up in hurricane country and knows what it takes—and when—to deal with stormy weather.
You Might also like
You've spent your life and career building a business and the time has come to make a change. You want to sell it and retire or pass it on to your kids.

What's next?

Millions of the Baby Boomer generation are facing this question every day. Over the next 10 years, 76 % of business owners plan to sell or transfer their companies. That translates to $4 1/2 million businesses and $10 trillion in value!

Stay tuned to learn more about this massive change in our business community and how exit planning is good for your business.

According to Marco Jacober, CEO of Life Hacks, the freelance workforce work force is growing three times faster than the traditional workforce, and the majority of work will be contracted by 2027.  Couple this with technology bridging the gap between states and countries, and the accessibility of products and services 24/7, and you've got a real opportunity to make a side business work for you..and at some point, if you love it enough, make it your full time "side gig" career.

One of the side gigs I have run across lately is in the wine industry.  According to Forbes, US wine consumption  has grown from a volume consumption of 370 million gallons in 1993 to a current level of over 770 million gallons.  In 2017, $40 BILLION dollars was spent in wine sales.  That's a lot of wine!

Like everything else, the wine industry has been impacted by changes in demographics, technology, and budgets.  It's not necessary to travel to France anymore to get high quality French wines.  The challenge is, how to get the wines in the hands of the consumers to maximize the quality, minimize the time, and fit into their budget?

The wine world is changing from wholesale to direct sales.  The rapid consolidation of grocery, retail and wholesalers is creating a narrower path to market, especially for small wineries and limited production wines.  The future opportunity for fine wine producers is to sell direct from the wineries to the consumers.  But how do they find those distribution points?

Join me and my next guest, Rashmi Malhotra, as she explains how one of the world's leading family-owned luxury fine wine companies has  taken their 56 years of winery experience, leveraged education, technology and their vision for the future, to create a side opportunity like no other.  Stay tuned and learn about Boisset wineries, and how they are bringing their quality wines to a home near you!

It's been called the amazing hidden industry because billions of dollars are spent each year on it and the public rarely sees the output.

Just how does the business-to-business trade show industry work and who is behind it all?

Companies doing business with other companies rely on the face-to-face marketing and selling that trade shows offer. In the past year, over $13.2 billion dollars were spent on trade shows in the US alone with projections of 2 percent growth per quarter. A big part of trade shows are the exhibits and displays that companies rely upon.

Our guest today has spent her career building and managing relationships and exhibits around the world. Let's talk with Elizabeth Smalley about what it takes to be successful and have staying power in the trade show industry.