During storm season in the U.S., it seems no one is immune to the ravages of the weather.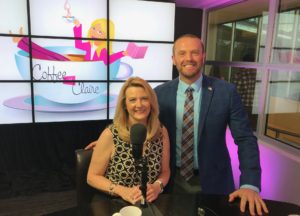 When your home and livelihood are at stake, timing is everything. And having the right coach or advisor close by can make all the difference between distress and comfort. When storm damage occurs, you not only need to be aware of what it will take to rebuild or repair your damaged property, there are regulations and laws in place that need to be taken into consideration.
And timing is everything.
Benny Wright grew up in hurricane country and knows what it takes—and when—to deal with stormy weather.
You Might also like
They call it "the sport of kings" because one of the first jockeys was a king! Yet horse racing has grown into a multi-billion-dollar industry enjoyed by millions all over the world.

Our guest today works at one of the premiere horse racing facilities in America. A native Texan and US Army veteran, he is also the product of a unique college program that has trained and prepared some of the industry's stars!

Tune in to learn more about the horse racing industry and Lone Star Park Grand Prairie!

What is it that drives entrepreneurs?  Why would anyone subject themselves to the crazy, unpredictable entrepreneurial lifestyle?

Entrepreneurs are an interesting breed.  They are tenacious, passionate people who really do march to the beat of a different drum.  They are visionaries, their strongest advocate, and although they have immense self confidence in themselves and their vision, they are humble enough to know when to pivot and say "this isn't working."  Lastly, entrepreneurs believe that rules are made to be broken.  The status quo is boring. They are always thinking of ten different ways to solve a problem, and by putting all of these traits to work, develop products and services that their competition says, "Why didn't we think of that?"  It's the amazing combination of using both sides of their brains to achieve what others may never have thought possible.

Here at Coffee with Claire, we celebrate the entrepreneurial spirit.  And today, our guests demonstrate how collaboration and the bringing together two totally opposite ends of the business spectrum is the perfect combination to help newly formed companies or re-designed businesses create a strong professional footprint, while staying true to their individual entrepreneurial spirits.

Stay tuned and learn how bringing two very different worlds together has found the crossroads of the soft skills of creativity and the "hard" skills of programming have created the perfect combination for success!

This episode features Sungwoo Chun of Adpop and Jonathan Kim of TechMillenial discussing their businesses and their place in a variety of communities.

Life is an adventure to be experienced. And done so intentionally. When you take responsibility for your personal growth, you put yourself on the path to fulfilling your life's purpose.

Being intentional in your life also opens you up to conversation and to learning. It helps you build a network of friends and business contacts and also builds your self-confidence. You have to lead yourself before you can become a leader.

Our guest today is Nancy Canada, a principal consultant with New Paradigm Advisors, an executive director with The John Maxwell Team and a former human resources leader responsible for finding, evaluating and integrating talent into organizations. Nancy knows people, processes and success.

Tune in to hear how to live life intentionally and fully!