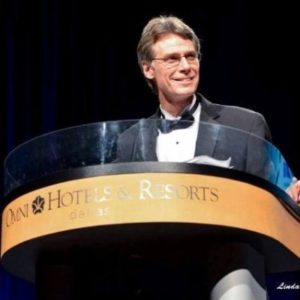 Are you the best leader you can be and do you have a mission statement? In today's discussion with Lon Ricker of The American Fallen Soldiers Project, we talk about how mission statements can define and direct an organization.
Lon Ricker is a 20-year survivor of the corporate world who realized that there is more to life than a big paycheck. He has served in a variety of roles with several non-profits in North Texas including The AmericanFallen Soldiers Project, SoupMobile and In-Sync Exotics.
You Might also like
Learning to communicate effectively and exposing the world to the real you is the subject of today's episode. While IT is a key part of all of our business lives, we need to realize it is really only a tool to meet the goals we've set for ourselves.

Paola Saibene, CEO of Neuropeach Labs,  has years of experience in IT transformation and business Innovation, having held multiple CIO/ CTO/ CSO/ COO positions in government and in the private sector, including multi-billion dollar enterprises, including the State of Hawaii. She is a pioneer in transforming and innovating in organizations under tremendous scrutiny.

Podcast: Play in new window | Download

Do you own your digital footprint?  Can you navigate in a digital world?  These are skills we are all going to need in today's world, both professionally and personally.  In this episode, Cindy Baccus covers the key things you need to know to be an effective digital communicator.

Cindy Baccus is considered an expert in the field of social media and digital marketing and currently serves as an Instructor at Collin College.  An expert communicator, having graduated from the prestigious John C. Maxwell leadership and speaking program, Cindy can make even the most complex challenge look simple. She has authored several books and has served and headed several boards.

Podcast: Play in new window | Download

They call it "the sport of kings" because one of the first jockeys was a king! Yet horse racing has grown into a multi-billion-dollar industry enjoyed by millions all over the world.

Our guest today works at one of the premiere horse racing facilities in America. A native Texan and US Army veteran, he is also the product of a unique college program that has trained and prepared some of the industry's stars!

Tune in to learn more about the horse racing industry and Lone Star Park Grand Prairie!