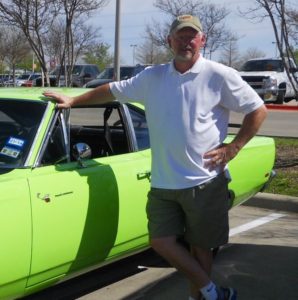 What if you had a hobby you enjoyed so much you wanted to include all of your friends? And what if you wanted to create a community event in your hometown that benefited a much-loved local charity? How would you do that?
Our guest today did just that by gathering his friends and family, involved local schools, businesses and social services, and created an event that combines fun and giving on a Saturday every
spring.
Join us today to learn all about Wheels of Hope.
You Might also like
The mindset of an entrepreneur is their strongest asset. It's their imagination that dreams up the idea, their strategic thinking and planning that allows the plan to unfold, and their determination and will power that gets them through the uncharted waters. It's patience and persistence that keeps them going.

However, in this fast-paced world in which we live, we don't always allow ourselves down time, we can forget to slow down and recharge our batteries. So, how do we, as entrepreneurs, keep ourselves moving forward at the speed of light, while also taking care of ourselves and get balanced?

That's where mindfulness steps in. John Edmonson, Director of Wellness and Life Coach at Healing Springs Ranch, has a fascinating approach to mindfulness and it's end goal. In today's episode, John will answer these questions and more.

The High-impact Living Series: weight loss and a healthy and fit lifestyle.  Dr. Ed talks about tips and techniques to help make this a reality for the viewer.

Dr. Edward Lewellen holds an Honorary Doctorate of Divinity, Certified Master Executive Coach, Master NLP Practitioner, Master Life Coach and has an MBA in Management. He has consulted with businesses, universities, and Chambers of Commerce on value-adding business forums and topics.

We are all living in an age of the internet of things, big data, artificial intelligence and data security.

What is the advantage of marrying technology and healthcare?

When it comes to our health, using these technologies and concepts to improve and enhance our daily lives only seems natural.  So what does it take to have wearable bio sensors a part of our day-to-day lives? What advantage is it to have all of our health history in a digital form?

Our guest is Pete Ianace, Senior Vice President of Corporate Development at Vital Tech Innovations, and President of ComCam International.  Pete caught us up with the impact of technology on the future of healthcare. Pete knows technology and he knows healthcare.

Tune in to hear the latest on the intersection of these two fields.