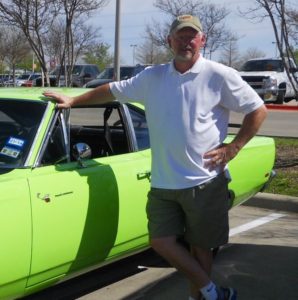 What if you had a hobby you enjoyed so much you wanted to include all of your friends? And what if you wanted to create a community event in your hometown that benefited a much-loved local charity? How would you do that?
Our guest today did just that by gathering his friends and family, involved local schools, businesses and social services, and created an event that combines fun and giving on a Saturday every
spring.
Join us today to learn all about Wheels of Hope.
You Might also like
The best and most effective way to interact with people is face to face.  Do you have the tools and techniques to allow you to engage people in person? Claire talks with Paul about the best ways to engage people interpersonally.

Paul E. Maynard, otherwise known as The Relentless Networker, is an independent marketing, communications and business consultant based in the Dallas. He specializes in building and managing relationships. His work as a social media strategist for small- and medium-sized businesses and his experience as a dimensional marketer qualify him as an expert face-to-face networker.

The world is an ever-more complicated and intricate place with so many internal and external forces at work on our minds, our health and intellect. Knowing what is going on around us as it impacts our health is increasingly important. Cell phones, digital signals and other emitted waves are bombarding our bodies daily.

What do we need to know? How can we protect ourselves?

On this episode of

Coffee with Claire

, our guest is

Dagmar Fleming

, founder of "Unlock Your Success." She is an international success coach and intuitive healer who helps individuals accelerate their growth, life purpose, and income potential. Through her research of helping people of all kinds, she has uncovered information about wireless radiation, the difference between 2 G and 5G, and how it affects us on a biological level.

Tune in to learn more about this everyday force and how you can understand its impact on you and follow our page for new episodes of Coffee with Claire every Friday!

The mindset of an entrepreneur is their strongest asset. It's their imagination that dreams up the idea, their strategic thinking and planning that allows the plan to unfold, and their determination and will power that gets them through the uncharted waters. It's patience and persistence that keeps them going.

However, in this fast-paced world in which we live, we don't always allow ourselves down time, we can forget to slow down and recharge our batteries. So, how do we, as entrepreneurs, keep ourselves moving forward at the speed of light, while also taking care of ourselves and get balanced?

That's where mindfulness steps in. John Edmonson, Director of Wellness and Life Coach at Healing Springs Ranch, has a fascinating approach to mindfulness and it's end goal. In today's episode, John will answer these questions and more.