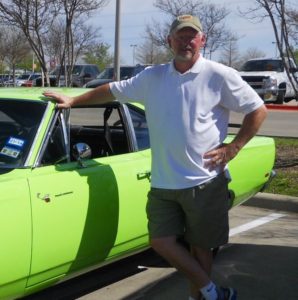 What if you had a hobby you enjoyed so much you wanted to include all of your friends? And what if you wanted to create a community event in your hometown that benefited a much-loved local charity? How would you do that?
Our guest today did just that by gathering his friends and family, involved local schools, businesses and social services, and created an event that combines fun and giving on a Saturday every
spring.
Join us today to learn all about Wheels of Hope.
You Might also like
The best and most effective way to interact with people is face to face.  Do you have the tools and techniques to allow you to engage people in person? Claire talks with Paul about the best ways to engage people interpersonally.

Paul E. Maynard, otherwise known as The Relentless Networker, is an independent marketing, communications and business consultant based in the Dallas. He specializes in building and managing relationships. His work as a social media strategist for small- and medium-sized businesses and his experience as a dimensional marketer qualify him as an expert face-to-face networker.

Are you more apt to wade into shallow water than to dive deep into the sea? Sometimes we must—must – push ourselves in order to transform into the person we are supposed to be. We all have a personal journey that is ours alone.

My guest today has navigated her own personal journey through waters of many depths. She knows only too well when and why to step into deeper waters.

Join me and Rachel Graham as we delve into her mission of helping educate people about overcoming huge obstacles to find real meaning and purpose in their lives.

Being able to know the difference between a symptom and a root cause, a trauma, is critical in understanding addiction.

We all have compulsive behaviors—drinking, smoking, gaming and electronics, excessive work or exercise or shopping or nail biting. It's knowing—and facing what trauma caused these symptoms that is key in our understanding how to deal with addiction in our lives.

My guest today has learned the hard way how to identify symptoms, understand the trauma and relate them to addiction. Let's talk with Rachel Graham about how best to learn about addiction.