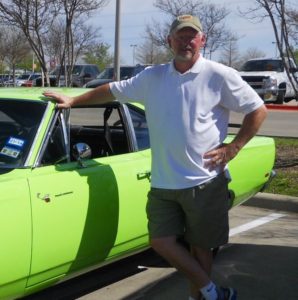 What if you had a hobby you enjoyed so much you wanted to include all of your friends? And what if you wanted to create a community event in your hometown that benefited a much-loved local charity? How would you do that?
Our guest today did just that by gathering his friends and family, involved local schools, businesses and social services, and created an event that combines fun and giving on a Saturday every
spring.
Join us today to learn all about Wheels of Hope.
You Might also like
Are you more apt to wade into shallow water than to dive deep into the sea? Sometimes we must—must – push ourselves in order to transform into the person we are supposed to be. We all have a personal journey that is ours alone.

My guest today has navigated her own personal journey through waters of many depths. She knows only too well when and why to step into deeper waters.

Join me and Rachel Graham as we delve into her mission of helping educate people about overcoming huge obstacles to find real meaning and purpose in their lives.

The first in a series we call "What If?" In this episode, we discover what you really need to know about insurance. Our guest, John Allen, is president and managing agent with Community Insurance Advisors. John's mission is to set a new standard for the insurance industry. Here John walks us through a thought process of how we should engage an agent and get the most from our insurance policies. While many people buy insurance on price (whether it be for the house, car or business), most of us really have no idea what our policies cover. John clearly describes "all-risk" versus "named-perils" coverage, water endorsements and the difference between replacement and ACV (depreciated) claims settlements.

John has leveraged his passion for people and his attention to detail to grow an insurance business that is a true advocate for his clients."

Are you entertaining as well as informative?  Do you know what it takes to engage people and leave them wanting more?  Sir Earl and Claire talk about the value of being an entertainer as well as a communicator.

Sir Earl Toon achieved notoriety with the very popular band Kool & The Gang.  The founder of YMO Enterprises, Sir Earl strives to deliver the highest quality of music entertainment to a worldwide audience.