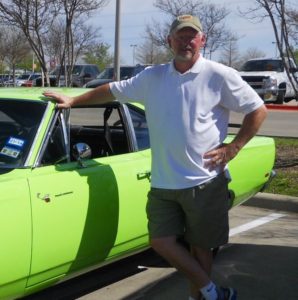 What if you had a hobby you enjoyed so much you wanted to include all of your friends? And what if you wanted to create a community event in your hometown that benefited a much-loved local charity? How would you do that?
Our guest today did just that by gathering his friends and family, involved local schools, businesses and social services, and created an event that combines fun and giving on a Saturday every
spring.
Join us today to learn all about Wheels of Hope.
You Might also like
Are you more of a mentor than you are a boss? Then you just might be a servant leader. Today's episode deals with some of the best examples of what it takes to be a servant leader and how they are being developed.

Billy Johnson is the Director of the Professional Leadership Program at the University of North Texas, which is housed in the College of Business. The Professional Leadership Program is a nationally recognized mentoring program, which matches students up with successful executives all over North Texas, and helps the students get ready for the business world before they get into the business world.

Another inspiring story of someone who is living their passion and dream of doing what they love for a living.

Sandra Lewis is the founder of Life At The Table. She asks the most important question of the day: "What's for dinner?" Life At The Table educates, inspires and motivates people to cook and create community around the table and at home.

hile we think of wearable technology strictly in terms of devices for humans, that's no longer true. Horses are now the beneficiary of advances in sensor technology and the trend is gaining momentum in 2017.  There are several new companies jockeying for position in the equine space. PonyUp Technologies is one of these companies, and their technology has features that sets it apart from the rest.

Sharon Caswell has a software engineering background and life-long interest in horses Sharon holds the reins at PonyUp Technologies, which has developed a new device called VetCheq.. Her background in software development, team leadership, product development and marketing gave her all the skills needed to give strategic and tactical guidance for developing a product from scratch.