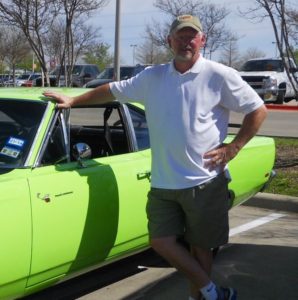 What if you had a hobby you enjoyed so much you wanted to include all of your friends? And what if you wanted to create a community event in your hometown that benefited a much-loved local charity? How would you do that?
Our guest today did just that by gathering his friends and family, involved local schools, businesses and social services, and created an event that combines fun and giving on a Saturday every
spring.
Join us today to learn all about Wheels of Hope.
You Might also like
Can you tell your own story?  Do you know where to start and what does it take to have an impact?  Claire and Steve talk about his story as an illustration of how to best tell a difficult and complex story.

Steve Stoler is a veteran Emmy Award winning television news reporter, whose career has spanned more than three decades at six television stations in Georgia, Nebraska, North Carolina and Texas. Steve has covered almost every type of news story imaginable. Throughout his career, Steve has been an eyewitness to history. After 34 years in TV, Steve is now the City of Plano, Texas' Director of Media Relations.

Do you own your digital footprint?  Can you navigate in a digital world?  These are skills we are all going to need in today's world, both professionally and personally.  In this episode, Cindy Baccus covers the key things you need to know to be an effective digital communicator.

Cindy Baccus is considered an expert in the field of social media and digital marketing and currently serves as an Instructor at Collin College.  An expert communicator, having graduated from the prestigious John C. Maxwell leadership and speaking program, Cindy can make even the most complex challenge look simple. She has authored several books and has served and headed several boards.

In this episode, Claire visits with Ellen Lee, an intuitive energy healer, author and improv coach. She and Claire discuss the concepts of energy healing, muscle testing and the six "clairs."

No, not Claire, clair, as in:

Clairvoyance – seeing
Clairaudience – hearing
Clairsentince – feeling
Claircognizance – knowing
Clairgustance – tasting
Clairolefactance – smelling

Learn about these concepts of clearing your emotional, mental, physical and spiritual issues. Then, in a followup, 5-minute segment, see Ellen in action clearing the seven main energy centers, or chakras. Top off this fun episode with Claire's Top 10 lessons.