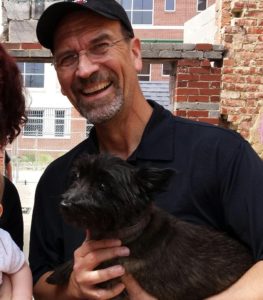 The best and most effective way to interact with people is face to face.  Do you have the tools and techniques to allow you to engage people in person? Claire talks with Paul about the best ways to engage people interpersonally.
Paul E. Maynard, otherwise known as The Relentless Networker, is an independent marketing, communications and business consultant based in the Dallas. He specializes in building and managing relationships. His work as a social media strategist for small- and medium-sized businesses and his experience as a dimensional marketer qualify him as an expert face-to-face networker.
You Might also like
Many of us face challenges early on that shape us and could define us. But how we react to those forces and experiences is what truly makes us the people we are.

Life is about choices. Choosing a fork in the road and then understanding the related consequences is a part of life. If you can harness the power, positive or negative, of a given life experience, then one can move forward in the direction of their choosing.

Our guest today has overcome many obstacles in life and used them as stepping stones for his next phase of life.

To learn more about Chuck visit: https://chuckherrick.com/

John Allen is in a business that can be hard to truly understand.  Or to get people to talk about.

Insurance.

"Most people tune out as soon as they hear the word," John said in a conversation recently.  "They're bombarded with salesy insurance messages, and many have had a poor experience with their own insurance … they're not sure who to trust, and so many simply choose not to engage."

That's where his experience with Coffee With Claire was helpful.  John was our guest on Episode 4 of Season 2.  His program was part of a series called "The 'What-if' Series on Insurance."

"I went on Coffee With Claire as part of a series with my good friend, Benny Wright (at Jansen Adjusters International), to give some real-world examples of what can happen when you don't hire the right people to insure you" John continued.  "You need to know what questions to ask when you buy insurance.  Understanding what you are buying can remove the angst from the process, and gets you much better coverage for your money."

John is President and Managing Agent with Community Insurance Advisors in Plano, Texas.

"However, it really didn't hit me just how much reach that appearance had until I visited friends in California," John said.  "In the course of a conversation with friends who had seen the program, it came up that they watched the whole thing."

A whole episode discussing insurance?  Really?

"They said they actually learned something," John said.

John chose to appear on Coffee With Claire because his larger mission is to do his part to correct the broken practices of the insurance industry.  Being honest, clear and direct with clients, and others, is a big part of that mission.

"Claire's interview helped me to focus that message," John said. "She is a skilled host!"

Claire has interviewed dozens of business and community leaders for Coffee With Claire.  For more information about how you can be a guest on Coffee With Claire, contact us for a tour and prospectus.

What can the practice of reflexology do to improve your health and your life?  Tune in to this episode to understand how these methodologies can help you propel yourself down a path of healthfulness.

Mary Ellen Dorey, founder of Dorey Aromatherapy, has a varied background. Starting out as a graduate of Buffalo State College and The Fashion Institute of Technology, NYC, she gained extensive retail background and consumer lab testing, technical design, and quality control.  Mary Ellen is registered by the Aromatherapy Registration Council (ARC) and incorporates her unique aromatherapy formulations into her practice of European and Ayurvedic styles of reflexology.