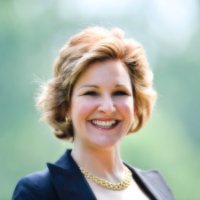 Do you know what it takes to overcome stress? Do you have the tools and techniques you need? Today's episode gives you some tips and ideas on how to make yourself feel better in stressful situations.
Mary Monttein Alonso is a transformational life coach, certified facilitator, brain mechanic and energy healer. She knows what it takes to realign the misaligned in your life.
You Might also like
Philip Goodrich introduces Claire to Google's Jamboard, a multi-functional presentation device. Philip demonstrated the large-screen, interactive display live on Coffee With Claire. While it looks like a basic whiteboard, it features handwriting recognition, Google search integration, allows remote collaboration and meshes the best of web capabilities with video conferencing. Look for Jamboard on future Coffee With Claire episodes.

Philip Goodrich is part of the BenQ Jamboard team. His over 20 years' of IT experience with a wide variety of platforms, applications and systems allows him to relate to his clients and their technology needs. A graduate of Southern Illinois University, he has a wealth of technology and sales experience with HP, Xerox, Sun, StorageTek and XIOtech. Philip is not only an accomplished sales person, he is also a musical performer and actor.

This is the episode that started it all.  Jayne Rios, the co-founder of the WomenOnTV network, introduced Claire to the audience and talks about what you will be going to see in the weeks and years to come.  Claire and Jayne talk about their history and their intentions for the show.

Jayne Rios is a veteran marketing and business professional based in Dallas.  With many years' experience in the video production world, she has started, managed and then sold several video and marketing companies.  She is the co-founder of WomenOnTV, (AKA, WBTVN).

Melissa and Claire talk about how NextCareer has helped veterans shape their lives and helped them find new purpose after serving in the military.

Melissa Walker is the President and CEO of NextCareer. A veteran media and human resources professional, Melissa knows how to match talent to enterprises.