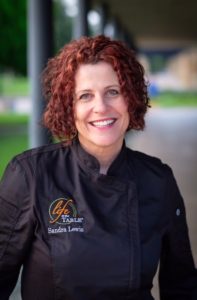 Another inspiring story of someone who is living their passion and dream of doing what they love for a living.
Sandra Lewis is the founder of Life At The Table. She asks the most important question of the day: "What's for dinner?" Life At The Table educates, inspires and motivates people to cook and create community around the table and at home.
You Might also like
How do successful people become successful? They learn how to overcome obstacles.

In life we all encounter obstacles. But to realize our full potential we have to be willing to deal with massive shifts in our lives as well be open to making positive changes in our lives.

We have to be willing to understand and deal with our energy, our subconscious, and our conscious self.

In order to get through this process to find this positive direction in life we all need help. We can all benefit from fixing ourselves first with the help of an expert.

What if you could have a combination of a life coach, spiritual teacher and therapist all rolled into one? My guest today is just that and has helped hundreds of entrepreneurs and business people find their success.

Drama and conflict are everywhere in our lives today. In the books, movies and popular media we consume. And in the relationships that make up our lives.

Sociologists and healthcare professionals often say that the dynamic roles people play in relationships form a drama triangle. Each of us can, and has, claimed one or more of these roles in our lifetime. Understanding how to overcome these challenges is critical in learning how to interact with others and in living the life you want.

My guest today has found her way through the drama triangle and lived to tell about it. Let's talk with Rachel Graham about her journey.

So much of our lives are marked by special occasions: engagements, weddings, milestone birthdays and anniversaries and just plain important days.

A big part of these special days and times are the gifts we give one another. Especially those unforgettable diamonds. From engagement rings to anniversary pendants to special jewelry, having a diamond at the center of the gift makes it all that more special.

Our guest today has made a career of knowing what diamond gifts work best on what occasion and for his expertise in charting the future of this fascinating industry.