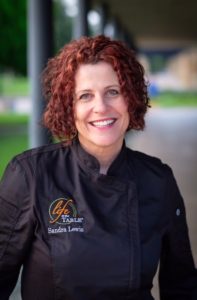 Another inspiring story of someone who is living their passion and dream of doing what they love for a living.
Sandra Lewis is the founder of Life At The Table. She asks the most important question of the day: "What's for dinner?" Life At The Table educates, inspires and motivates people to cook and create community around the table and at home.
You Might also like
Telling stories and writing them down for a living. Wouldn't we all love to do that?

And then having them become New York Times best-selling books at that!  How does one go from a business career to writing historical fiction to writing crime fiction? My guest today has done all of that and is here to share her journey and experiences with the Salem Witch Trials, pioneer Texas and a woman detective.

Join me for my conversation with Kathleen Kent!

The first in a series we call "What If?" In this episode, we discover what you really need to know about insurance. Our guest, John Allen, is president and managing agent with Community Insurance Advisors. John's mission is to set a new standard for the insurance industry. Here John walks us through a thought process of how we should engage an agent and get the most from our insurance policies. While many people buy insurance on price (whether it be for the house, car or business), most of us really have no idea what our policies cover. John clearly describes "all-risk" versus "named-perils" coverage, water endorsements and the difference between replacement and ACV (depreciated) claims settlements.

John has leveraged his passion for people and his attention to detail to grow an insurance business that is a true advocate for his clients."

Another example of a corporate survivor who is making his living doing what he loves. Von and Claire talk about what it takes to run a business around a series of games and jokes. Comedy is really big business.

Von Daniel, is familiar with the techniques of Improv as CEO of ComedySportz Dallas. He has extensive experience managing in the DFW area, having successfully hired, trained, implemented processes and led business teams of varying skill levels. Von has extensive experience as a performer as a part of improvisational comedy in Dallas going back almost 20 years.