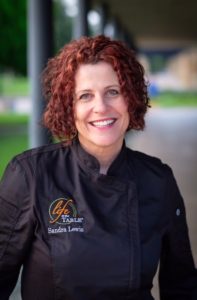 Another inspiring story of someone who is living their passion and dream of doing what they love for a living.
Sandra Lewis is the founder of Life At The Table. She asks the most important question of the day: "What's for dinner?" Life At The Table educates, inspires and motivates people to cook and create community around the table and at home.
You Might also like
Do you own your digital footprint?  Can you navigate in a digital world?  These are skills we are all going to need in today's world, both professionally and personally.  In this episode, Cindy Baccus covers the key things you need to know to be an effective digital communicator.

Cindy Baccus is considered an expert in the field of social media and digital marketing and currently serves as an Instructor at Collin College.  An expert communicator, having graduated from the prestigious John C. Maxwell leadership and speaking program, Cindy can make even the most complex challenge look simple. She has authored several books and has served and headed several boards.

What are you doing for yourself? Today's episode talks about self care—from taking better care of your skin to choosing and wearing the best fashions that fit your style, body type and image.

Shea Boothe-Wood is a mother, entrepreneur, East Dallas resident and founder of 2 Shea Boutique & Med Spa and of 2 Shea Baby Boutique. Shea has spent over 25 years in the skincare industry, beginning her career with such skincare giants as Estee' Lauder, Christian Dior and Aveda Corporation.

Podcast: Play in new window | Download

Do you know your key messages? Do you how best to present yourself physically and verbally to a listening and watching public?  Claire speaks today with Laura Lewis, a polished media professional on what we need to consider as we shape our public persona.

Laura Lewis is a speaker, a radio and TV personality of Z Living, as well as a producer, writer, and clinical hypnotherapist.  Laura has a degree in Food and Nutrition from the University of North Texas.  She is founder and president of Odyssey Star Media, a production, publishing and promotion company dedicated to changing the world for the better, one person at a time through a multitude of communication channels.