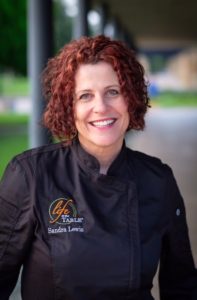 Another inspiring story of someone who is living their passion and dream of doing what they love for a living.
Sandra Lewis is the founder of Life At The Table. She asks the most important question of the day: "What's for dinner?" Life At The Table educates, inspires and motivates people to cook and create community around the table and at home.
You Might also like
Do you have a full-time job that pays the bills? Do wish you could do something else that would fuel a passion while earning extra money? My guest in this episode is Sue Moore who knows all too well what it means to find a "side hustle" to help s sometimes-depleted bank account.

One of the fastest growing segments in the American workforce are side earners–people who keep their regular, full-time job, and then find something to supplement that income with more. This episode covers:

How to find these opportunities

What the typical hurdles might be

Gives you some ideas on how much you can make

Describes what your daily routine might be like

"Side Hustle Sue" Moore is a "recovering banker" who successfully transitioned from the financial services world into this fast-growing segment of earners. She loves to tell her interesting story and is an inspiration to those who need that push to get started.

Are you more of a mentor than you are a boss? Then you just might be a servant leader. Today's episode deals with some of the best examples of what it takes to be a servant leader and how they are being developed.

Billy Johnson is the Director of the Professional Leadership Program at the University of North Texas, which is housed in the College of Business. The Professional Leadership Program is a nationally recognized mentoring program, which matches students up with successful executives all over North Texas, and helps the students get ready for the business world before they get into the business world.

They call it "the sport of kings" because one of the first jockeys was a king! Yet horse racing has grown into a multi-billion-dollar industry enjoyed by millions all over the world.

Our guest today works at one of the premiere horse racing facilities in America. A native Texan and US Army veteran, he is also the product of a unique college program that has trained and prepared some of the industry's stars!

Tune in to learn more about the horse racing industry and Lone Star Park Grand Prairie!