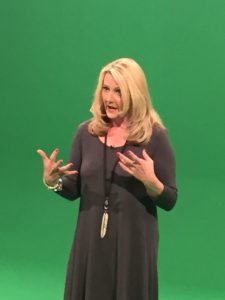 Do you know the concept of  "Yes, and.." from improvisational comedy? In this episode, recorded at a lunchtime networking group in Dallas, Claire shows the crowd (and you) just what it takes to engage people and make conversation and connecting really work. A great example of dynamic speaking and people engagement.
You Might also like
Do you know your key messages? Do you how best to present yourself physically and verbally to a listening and watching public?  Claire speaks today with Laura Lewis, a polished media professional on what we need to consider as we shape our public persona.

Laura Lewis is a speaker, a radio and TV personality of Z Living, as well as a producer, writer, and clinical hypnotherapist.  Laura has a degree in Food and Nutrition from the University of North Texas.  She is founder and president of Odyssey Star Media, a production, publishing and promotion company dedicated to changing the world for the better, one person at a time through a multitude of communication channels.

Podcast: Play in new window | Download

Finding and creating opportunities is a challenge for any business owner. It can be especially challenging for women business owners. Networking, coaching, strategy and learning negotiating skills are constant challenges – especially when you're just starting out.

Building a network of trusted advisors can help any business. And as a business owner, you build various alliances such as a CPA, a lawyer and a banker. Did you know your banker specifically can play a critical role in connecting you with other business people, key community leaders and activities to get you involved in your local community? Well, they can! And my guests today are at the forefront of creating and offering up networking and business opportunities for women in business through their community bank!

Veritex Bank

Darlene Ellison

Dana Cooper

In this episode, Claire visits with Ellen Lee, an intuitive energy healer, author and improv coach. She and Claire discuss the concepts of energy healing, muscle testing and the six "clairs."

No, not Claire, clair, as in:

Clairvoyance – seeing
Clairaudience – hearing
Clairsentince – feeling
Claircognizance – knowing
Clairgustance – tasting
Clairolefactance – smelling

Learn about these concepts of clearing your emotional, mental, physical and spiritual issues. Then, in a followup, 5-minute segment, see Ellen in action clearing the seven main energy centers, or chakras. Top off this fun episode with Claire's Top 10 lessons.