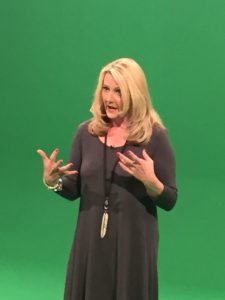 Do you know the concept of  "Yes, and.." from improvisational comedy? In this episode, recorded at a lunchtime networking group in Dallas, Claire shows the crowd (and you) just what it takes to engage people and make conversation and connecting really work. A great example of dynamic speaking and people engagement.
You Might also like
Are you more of a mentor than you are a boss? Then you just might be a servant leader. Today's episode deals with some of the best examples of what it takes to be a servant leader and how they are being developed.

Billy Johnson is the Director of the Professional Leadership Program at the University of North Texas, which is housed in the College of Business. The Professional Leadership Program is a nationally recognized mentoring program, which matches students up with successful executives all over North Texas, and helps the students get ready for the business world before they get into the business world.

John Allen is in a business that can be hard to truly understand.  Or to get people to talk about.

Insurance.

"Most people tune out as soon as they hear the word," John said in a conversation recently.  "They're bombarded with salesy insurance messages, and many have had a poor experience with their own insurance … they're not sure who to trust, and so many simply choose not to engage."

That's where his experience with Coffee With Claire was helpful.  John was our guest on Episode 4 of Season 2.  His program was part of a series called "The 'What-if' Series on Insurance."

"I went on Coffee With Claire as part of a series with my good friend, Benny Wright (at Jansen Adjusters International), to give some real-world examples of what can happen when you don't hire the right people to insure you" John continued.  "You need to know what questions to ask when you buy insurance.  Understanding what you are buying can remove the angst from the process, and gets you much better coverage for your money."

John is President and Managing Agent with Community Insurance Advisors in Plano, Texas.

"However, it really didn't hit me just how much reach that appearance had until I visited friends in California," John said.  "In the course of a conversation with friends who had seen the program, it came up that they watched the whole thing."

A whole episode discussing insurance?  Really?

"They said they actually learned something," John said.

John chose to appear on Coffee With Claire because his larger mission is to do his part to correct the broken practices of the insurance industry.  Being honest, clear and direct with clients, and others, is a big part of that mission.

"Claire's interview helped me to focus that message," John said. "She is a skilled host!"

Claire has interviewed dozens of business and community leaders for Coffee With Claire.  For more information about how you can be a guest on Coffee With Claire, contact us for a tour and prospectus.

What do you need to do to take control of how you deal with the professional relationships in your life and improve your professional development potential?  Dr. Ed discusses with Claire how to come up with the best approach for you using his proven techniques.

Dr. Edward Lewellen holds an Honorary Doctorate of Divinity, Certified Master Executive Coach, Master NLP Practitioner, Master Life Coach and has an MBA in Management. He has consulted with businesses, universities, and Chambers of Commerce on value-adding business forums and topics.