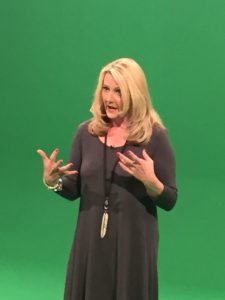 Do you know the concept of  "Yes, and.." from improvisational comedy? In this episode, recorded at a lunchtime networking group in Dallas, Claire shows the crowd (and you) just what it takes to engage people and make conversation and connecting really work. A great example of dynamic speaking and people engagement.
You Might also like
Melissa and Claire talk about how NextCareer has helped veterans shape their lives and helped them find new purpose after serving in the military.

Melissa Walker is the President and CEO of NextCareer. A veteran media and human resources professional, Melissa knows how to match talent to enterprises.

What does it take to be a clear communicator? Claire and guest, Robi Ley, have a spirited discussion of how to get your best thoughts out of your head and onto paper or into clear spoken words.

Robi Ley is the owner and lead communication coach at WordCrafter Consultants.  Robi believes that every person has a story. Her business is about helping people tell their story.

Podcast: Play in new window | Download

Are you entertaining as well as informative?  Do you know what it takes to engage people and leave them wanting more?  Sir Earl and Claire talk about the value of being an entertainer as well as a communicator.

Sir Earl Toon achieved notoriety with the very popular band Kool & The Gang.  The founder of YMO Enterprises, Sir Earl strives to deliver the highest quality of music entertainment to a worldwide audience.