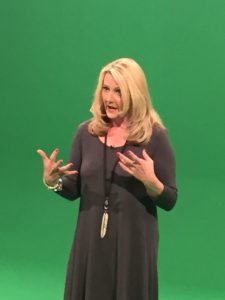 Do you know the concept of  "Yes, and.." from improvisational comedy? In this episode, recorded at a lunchtime networking group in Dallas, Claire shows the crowd (and you) just what it takes to engage people and make conversation and connecting really work. A great example of dynamic speaking and people engagement.
You Might also like
They call it "the sport of kings" because one of the first jockeys was a king! Yet horse racing has grown into a multi-billion-dollar industry enjoyed by millions all over the world.

Our guest today works at one of the premiere horse racing facilities in America. A native Texan and US Army veteran, he is also the product of a unique college program that has trained and prepared some of the industry's stars!

Tune in to learn more about the horse racing industry and Lone Star Park Grand Prairie!

How do successful people become successful? They learn how to overcome obstacles.

In life we all encounter obstacles. But to realize our full potential we have to be willing to deal with massive shifts in our lives as well be open to making positive changes in our lives.

We have to be willing to understand and deal with our energy, our subconscious, and our conscious self.

In order to get through this process to find this positive direction in life we all need help. We can all benefit from fixing ourselves first with the help of an expert.

What if you could have a combination of a life coach, spiritual teacher and therapist all rolled into one? My guest today is just that and has helped hundreds of entrepreneurs and business people find their success.

Do we REALLY believe in what we do? Is belief an integral part of your life? In today's episode, the first in a series, we start our discussion of the BOOTS (believe, overcome, own, trust and serve) method of a belief system.

Robi Ley is the owner and lead communication coach at WordCrafter Consultants. Robi believes that every person has a story. Her business is about helping people tell their story.