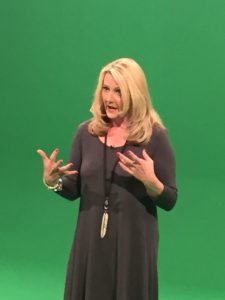 Do you know the concept of  "Yes, and.." from improvisational comedy? In this episode, recorded at a lunchtime networking group in Dallas, Claire shows the crowd (and you) just what it takes to engage people and make conversation and connecting really work. A great example of dynamic speaking and people engagement.
You Might also like
In today's buying and selling markets we always hear about "the experience."

Well, just what is the buying experience and why should it matter to me?

When it comes to buying a home, probably the biggest purchase anyone makes in their lifetime, it is incredibly important. Having the right team in place to help you find and then buy the home of your dreams is more than salesmanship and bravado. It's about experience, market savvy and a passion for the business – and your clients.

Our guest today has made a career from building relationships and focusing on outstanding results for her clients. Let's talk with Tonya Walker about what sets her apart from her peers and how she creates the "Ultimate Real Estate Experience."

The High-Impact Living Series begins: Overcoming the routine life you are leading.  This episode is primer on how to make these changes.

Dr. Edward Lewellen holds an Honorary Doctorate of Divinity, Certified Master Executive Coach, Master NLP Practitioner, Master Life Coach and has an MBA in Management. He has consulted with businesses, universities, and Chambers of Commerce on value-adding business forums and topics.

Podcast: Play in new window | Download

Drama and conflict are everywhere in our lives today. In the books, movies and popular media we consume. And in the relationships that make up our lives.

Sociologists and healthcare professionals often say that the dynamic roles people play in relationships form a drama triangle. Each of us can, and has, claimed one or more of these roles in our lifetime. Understanding how to overcome these challenges is critical in learning how to interact with others and in living the life you want.

My guest today has found her way through the drama triangle and lived to tell about it. Let's talk with Rachel Graham about her journey.