What happens when you take one part etiquette expert, marry her to a master, responsible plumber and mix in large quantities of social media?
You get a plumber who knows how to teach other tradesmen where and how to find business via the internet—and in person and with style.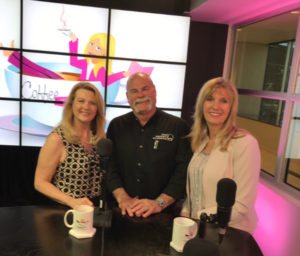 Please join me in welcoming Julie and Roger Wakefield who've not only built a very successful business but made their marriage survive and thrive in the process.
You Might also like
Putting together the best outfit on a budget and then accessorizing it with custom jewelry is at the heart of this episode.  How can you maximize your budget and experience in the world of consignment goods?

Caroline Minnick Miller is a sales, marketing and advertising consultant to the fashion industry.  Andrea Reich is the owner and chief designer at Diadem Jewelry. Together in this episode you can see how best to match your consignment choices in clothing with the best in custom or found jewelry.

The world is an ever-more complicated and intricate place with so many internal and external forces at work on our minds, our health and intellect. Knowing what is going on around us as it impacts our health is increasingly important. Cell phones, digital signals and other emitted waves are bombarding our bodies daily.

What do we need to know? How can we protect ourselves?

On this episode of

Coffee with Claire

, our guest is

Dagmar Fleming

, founder of "Unlock Your Success." She is an international success coach and intuitive healer who helps individuals accelerate their growth, life purpose, and income potential. Through her research of helping people of all kinds, she has uncovered information about wireless radiation, the difference between 2 G and 5G, and how it affects us on a biological level.

Tune in to learn more about this everyday force and how you can understand its impact on you and follow our page for new episodes of Coffee with Claire every Friday!

Learning to communicate effectively and exposing the world to the real you is the subject of today's episode. While IT is a key part of all of our business lives, we need to realize it is really only a tool to meet the goals we've set for ourselves.

Paola Saibene, CEO of Neuropeach Labs,  has years of experience in IT transformation and business Innovation, having held multiple CIO/ CTO/ CSO/ COO positions in government and in the private sector, including multi-billion dollar enterprises, including the State of Hawaii. She is a pioneer in transforming and innovating in organizations under tremendous scrutiny.