What happens when you take one part etiquette expert, marry her to a master, responsible plumber and mix in large quantities of social media?
You get a plumber who knows how to teach other tradesmen where and how to find business via the internet—and in person and with style.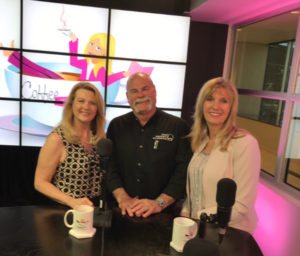 Please join me in welcoming Julie and Roger Wakefield who've not only built a very successful business but made their marriage survive and thrive in the process.
You Might also like
Obesity and being overweight are two very significant health care issues in our world today with over 70 percent of our population suffering from these maladies. Beyond surgery and invasive procedures, what are people's options when it comes to overcoming these health challenges?

Back and neck pain, joint aches, muscle aches and soreness, chronic pain and gastrointestinal conditions are mostly caused by weight issues.

What if you could combat these health conditions by treating them naturally and accelerating the healing process and maintaining your health long term?

My guests today use their skills as doctors of chiropractic as well as their knowledge of anti-inflammatories and health and wellness products and practices to treat these pains and accelerate weight loss in their patients.

Let's learn about Health Factor Weight Loss, the natural solution to losing weight.

So much of our lives are marked by special occasions: engagements, weddings, milestone birthdays and anniversaries and just plain important days.

A big part of these special days and times are the gifts we give one another. Especially those unforgettable diamonds. From engagement rings to anniversary pendants to special jewelry, having a diamond at the center of the gift makes it all that more special.

Our guest today has made a career of knowing what diamond gifts work best on what occasion and for his expertise in charting the future of this fascinating industry.

The High-Impact Living Series begins: Overcoming the routine life you are leading.  This episode is primer on how to make these changes.

Dr. Edward Lewellen holds an Honorary Doctorate of Divinity, Certified Master Executive Coach, Master NLP Practitioner, Master Life Coach and has an MBA in Management. He has consulted with businesses, universities, and Chambers of Commerce on value-adding business forums and topics.