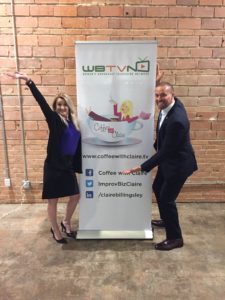 Do you know what a public insurance adjuster is? In this episode, meet Benny Write, an adjuster with Jansen International. He explains how he and his brethren can help you through the claims process with your insurance company.
Episode also features Von Daniel and Claire discussing their new series "Behind the Wall."
You Might also like
What if you had a hobby you enjoyed so much you wanted to include all of your friends? And what if you wanted to create a community event in your hometown that benefited a much-loved local charity? How would you do that?

Our guest today did just that by gathering his friends and family, involved local schools, businesses and social services, and created an event that combines fun and giving on a Saturday every
spring.

Join us today to learn all about Wheels of Hope.

The mindset of an entrepreneur is their strongest asset. It's their imagination that dreams up the idea, their strategic thinking and planning that allows the plan to unfold, and their determination and will power that gets them through the uncharted waters. It's patience and persistence that keeps them going.

However, in this fast-paced world in which we live, we don't always allow ourselves down time, we can forget to slow down and recharge our batteries. So, how do we, as entrepreneurs, keep ourselves moving forward at the speed of light, while also taking care of ourselves and get balanced?

That's where mindfulness steps in. John Edmonson, Director of Wellness and Life Coach at Healing Springs Ranch, has a fascinating approach to mindfulness and it's end goal. In today's episode, John will answer these questions and more.

Whether it's choosing a doctor, hospital or other medical provider, or paying for high cost prescription medications, health care is front and center in most of our lives these days. People are looking for solutions to spread their financial resources without sacrificing quality or skipping necessary care. It can feel like a rat race with no way out.

One of those solutions is something many of us are not aware of, something called destination medical care, the idea of traveling to medical center other than the closest one to come up with the best outcome, timely access to care and manageable costs. Where this was once seen as only for wealthy, individual patients, it's now become a practical option for companies trying to manage benefit costs and individual patient alike.

Our guest today has taken this concept to the next level and not only made good care available to more people he's found ways to make it affordable, available and practical.