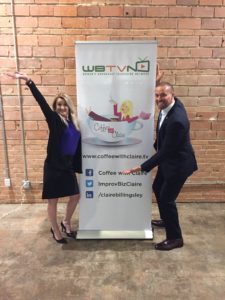 Do you know what a public insurance adjuster is? In this episode, meet Benny Write, an adjuster with Jansen International. He explains how he and his brethren can help you through the claims process with your insurance company.
Episode also features Von Daniel and Claire discussing their new series "Behind the Wall."
You Might also like
Obesity and being overweight are two very significant health care issues in our world today with over 70 percent of our population suffering from these maladies. Beyond surgery and invasive procedures, what are people's options when it comes to overcoming these health challenges?

Back and neck pain, joint aches, muscle aches and soreness, chronic pain and gastrointestinal conditions are mostly caused by weight issues.

What if you could combat these health conditions by treating them naturally and accelerating the healing process and maintaining your health long term?

My guests today use their skills as doctors of chiropractic as well as their knowledge of anti-inflammatories and health and wellness products and practices to treat these pains and accelerate weight loss in their patients.

Let's learn about Health Factor Weight Loss, the natural solution to losing weight.

Are you more apt to wade into shallow water than to dive deep into the sea? Sometimes we must—must – push ourselves in order to transform into the person we are supposed to be. We all have a personal journey that is ours alone.

My guest today has navigated her own personal journey through waters of many depths. She knows only too well when and why to step into deeper waters.

Join me and Rachel Graham as we delve into her mission of helping educate people about overcoming huge obstacles to find real meaning and purpose in their lives.

What can the practice of reflexology do to improve your health and your life?  Tune in to this episode to understand how these methodologies can help you propel yourself down a path of healthfulness.

Mary Ellen Dorey, founder of Dorey Aromatherapy, has a varied background. Starting out as a graduate of Buffalo State College and The Fashion Institute of Technology, NYC, she gained extensive retail background and consumer lab testing, technical design, and quality control.  Mary Ellen is registered by the Aromatherapy Registration Council (ARC) and incorporates her unique aromatherapy formulations into her practice of European and Ayurvedic styles of reflexology.