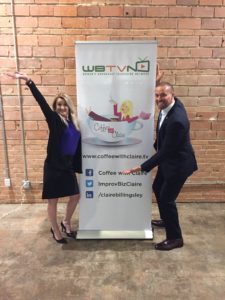 Do you know what a public insurance adjuster is? In this episode, meet Benny Write, an adjuster with Jansen International. He explains how he and his brethren can help you through the claims process with your insurance company.
Episode also features Von Daniel and Claire discussing their new series "Behind the Wall."
You Might also like
The High-Impact Living Series begins: Overcoming the routine life you are leading.  This episode is primer on how to make these changes.

Dr. Edward Lewellen holds an Honorary Doctorate of Divinity, Certified Master Executive Coach, Master NLP Practitioner, Master Life Coach and has an MBA in Management. He has consulted with businesses, universities, and Chambers of Commerce on value-adding business forums and topics.

Obesity and being overweight are two very significant health care issues in our world today with over 70 percent of our population suffering from these maladies. Beyond surgery and invasive procedures, what are people's options when it comes to overcoming these health challenges?

Back and neck pain, joint aches, muscle aches and soreness, chronic pain and gastrointestinal conditions are mostly caused by weight issues.

What if you could combat these health conditions by treating them naturally and accelerating the healing process and maintaining your health long term?

My guests today use their skills as doctors of chiropractic as well as their knowledge of anti-inflammatories and health and wellness products and practices to treat these pains and accelerate weight loss in their patients.

Let's learn about Health Factor Weight Loss, the natural solution to losing weight.

Telling stories and writing them down for a living. Wouldn't we all love to do that?

And then having them become New York Times best-selling books at that!  How does one go from a business career to writing historical fiction to writing crime fiction? My guest today has done all of that and is here to share her journey and experiences with the Salem Witch Trials, pioneer Texas and a woman detective.

Join me for my conversation with Kathleen Kent!