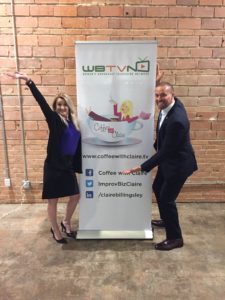 Do you know what a public insurance adjuster is? In this episode, meet Benny Write, an adjuster with Jansen International. He explains how he and his brethren can help you through the claims process with your insurance company.
Episode also features Von Daniel and Claire discussing their new series "Behind the Wall."
You Might also like
It's been called the amazing hidden industry because billions of dollars are spent each year on it and the public rarely sees the output.

Just how does the business-to-business trade show industry work and who is behind it all?

Companies doing business with other companies rely on the face-to-face marketing and selling that trade shows offer. In the past year, over $13.2 billion dollars were spent on trade shows in the US alone with projections of 2 percent growth per quarter. A big part of trade shows are the exhibits and displays that companies rely upon.

Our guest today has spent her career building and managing relationships and exhibits around the world. Let's talk with Elizabeth Smalley about what it takes to be successful and have staying power in the trade show industry.

How do successful people become successful? They learn how to overcome obstacles.

In life we all encounter obstacles. But to realize our full potential we have to be willing to deal with massive shifts in our lives as well be open to making positive changes in our lives.

We have to be willing to understand and deal with our energy, our subconscious, and our conscious self.

In order to get through this process to find this positive direction in life we all need help. We can all benefit from fixing ourselves first with the help of an expert.

What if you could have a combination of a life coach, spiritual teacher and therapist all rolled into one? My guest today is just that and has helped hundreds of entrepreneurs and business people find their success.

What if you could invent a business that was a model of collaboration and high quality and featured products that tasted really good?

What if I told you that a business like this exists and is also native Texan-woman owned?

The micro-batched and artisan food industry is more of a movement. Creative folks who roast coffee, brew beer, make bread, or create specialty condiments, are in it for the creativity as much as the profitability.

Our guest today had a dream of crafting specialty foods she loved and knew others would find tasty. Let's talk with Taffie Lynn Butters about how she made her jalapeno dream a reality and does good at the same time.