You've spent your life and career building a business and the time has come to make a change. You want to sell it and retire or pass it on to your kids.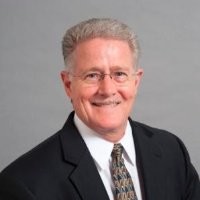 What's next?
Millions of the Baby Boomer generation are facing this question every day. Over the next 10 years, 76 % of business owners plan to sell or transfer their companies. That translates to $4 1/2 million businesses and $10 trillion in value!
Stay tuned to learn more about this massive change in our business community and how exit planning is good for your business.
You Might also like
Philip Goodrich introduces Claire to Google's Jamboard, a multi-functional presentation device. Philip demonstrated the large-screen, interactive display live on Coffee With Claire. While it looks like a basic whiteboard, it features handwriting recognition, Google search integration, allows remote collaboration and meshes the best of web capabilities with video conferencing. Look for Jamboard on future Coffee With Claire episodes.

Philip Goodrich is part of the BenQ Jamboard team. His over 20 years' of IT experience with a wide variety of platforms, applications and systems allows him to relate to his clients and their technology needs. A graduate of Southern Illinois University, he has a wealth of technology and sales experience with HP, Xerox, Sun, StorageTek and XIOtech. Philip is not only an accomplished sales person, he is also a musical performer and actor.

How many of you, as business owners, make it a point to laugh every day? Or how many of you get mad at your employees for laughing too loud or having a good time at work?

Did you know that laughter at work is one of the best ways to develop creative thinking? Did you know that employees who enjoy their work environment are more loyal to the company, creating less turnover and they call in sick less?

Aren't those big contributors to your company's productivity and profitability?

Maybe you should be looking just as much at the laugh lines on your employee's faces as you do to the bottom line of your P&L statements! On this episode of Coffee with Claire, our guest is public speaker and author Joel Zeff. Joel has made it his mission to remind corporations that fun and passion are pathways to success.

Stay tuned to learn more about his take on speaking, teamwork and leadership viewed through the lens of mindful playfulness!

It's been called the amazing hidden industry because billions of dollars are spent each year on it and the public rarely sees the output.

Just how does the business-to-business trade show industry work and who is behind it all?

Companies doing business with other companies rely on the face-to-face marketing and selling that trade shows offer. In the past year, over $13.2 billion dollars were spent on trade shows in the US alone with projections of 2 percent growth per quarter. A big part of trade shows are the exhibits and displays that companies rely upon.

Our guest today has spent her career building and managing relationships and exhibits around the world. Let's talk with Elizabeth Smalley about what it takes to be successful and have staying power in the trade show industry.