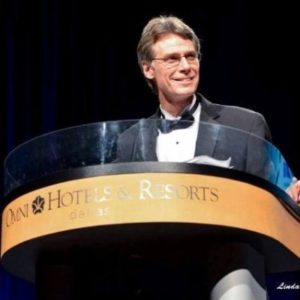 Are you the best leader you can be and do you have a mission statement? In today's discussion with Lon Ricker of The American Fallen Soldiers Project, we talk about how mission statements can define and direct an organization.
Lon Ricker is a 20-year survivor of the corporate world who realized that there is more to life than a big paycheck. He has served in a variety of roles with several non-profits in North Texas including The AmericanFallen Soldiers Project, SoupMobile and In-Sync Exotics.
Podcast: Play in new window | Download
You Might also like
What does it take to be a clear communicator? Claire and guest, Robi Ley, have a spirited discussion of how to get your best thoughts out of your head and onto paper or into clear spoken words.

Robi Ley is the owner and lead communication coach at WordCrafter Consultants.  Robi believes that every person has a story. Her business is about helping people tell their story.

Do you own your digital footprint?  Can you navigate in a digital world?  These are skills we are all going to need in today's world, both professionally and personally.  In this episode, Cindy Baccus covers the key things you need to know to be an effective digital communicator.

Cindy Baccus is considered an expert in the field of social media and digital marketing and currently serves as an Instructor at Collin College.  An expert communicator, having graduated from the prestigious John C. Maxwell leadership and speaking program, Cindy can make even the most complex challenge look simple. She has authored several books and has served and headed several boards.

Podcast: Play in new window | Download

According to Marco Jacober, CEO of Life Hacks, the freelance workforce work force is growing three times faster than the traditional workforce, and the majority of work will be contracted by 2027.  Couple this with technology bridging the gap between states and countries, and the accessibility of products and services 24/7, and you've got a real opportunity to make a side business work for you..and at some point, if you love it enough, make it your full time "side gig" career.

One of the side gigs I have run across lately is in the wine industry.  According to Forbes, US wine consumption  has grown from a volume consumption of 370 million gallons in 1993 to a current level of over 770 million gallons.  In 2017, $40 BILLION dollars was spent in wine sales.  That's a lot of wine!

Like everything else, the wine industry has been impacted by changes in demographics, technology, and budgets.  It's not necessary to travel to France anymore to get high quality French wines.  The challenge is, how to get the wines in the hands of the consumers to maximize the quality, minimize the time, and fit into their budget?

The wine world is changing from wholesale to direct sales.  The rapid consolidation of grocery, retail and wholesalers is creating a narrower path to market, especially for small wineries and limited production wines.  The future opportunity for fine wine producers is to sell direct from the wineries to the consumers.  But how do they find those distribution points?

Join me and my next guest, Rashmi Malhotra, as she explains how one of the world's leading family-owned luxury fine wine companies has  taken their 56 years of winery experience, leveraged education, technology and their vision for the future, to create a side opportunity like no other.  Stay tuned and learn about Boisset wineries, and how they are bringing their quality wines to a home near you!