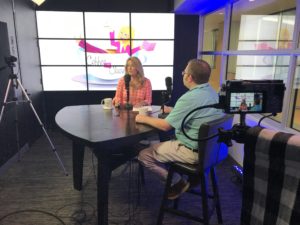 They call it "the sport of kings" because one of the first jockeys was a king! Yet horse racing has grown into a multi-billion-dollar industry enjoyed by millions all over the world.
Our guest today works at one of the premiere horse racing facilities in America. A native Texan and US Army veteran, he is also the product of a unique college program that has trained and prepared some of the industry's stars!
Tune in to learn more about the horse racing industry and Lone Star Park Grand Prairie!
You Might also like
Finding and creating opportunities is a challenge for any business owner. It can be especially challenging for women business owners. Networking, coaching, strategy and learning negotiating skills are constant challenges – especially when you're just starting out.

Building a network of trusted advisors can help any business. And as a business owner, you build various alliances such as a CPA, a lawyer and a banker. Did you know your banker specifically can play a critical role in connecting you with other business people, key community leaders and activities to get you involved in your local community? Well, they can! And my guests today are at the forefront of creating and offering up networking and business opportunities for women in business through their community bank!

Veritex Bank

Darlene Ellison

Dana Cooper

What do you need to do to take control of how you deal with the professional relationships in your life and improve your professional development potential?  Dr. Ed discusses with Claire how to come up with the best approach for you using his proven techniques.

Dr. Edward Lewellen holds an Honorary Doctorate of Divinity, Certified Master Executive Coach, Master NLP Practitioner, Master Life Coach and has an MBA in Management. He has consulted with businesses, universities, and Chambers of Commerce on value-adding business forums and topics.

Are you more apt to wade into shallow water than to dive deep into the sea? Sometimes we must—must – push ourselves in order to transform into the person we are supposed to be. We all have a personal journey that is ours alone.

My guest today has navigated her own personal journey through waters of many depths. She knows only too well when and why to step into deeper waters.

Join me and Rachel Graham as we delve into her mission of helping educate people about overcoming huge obstacles to find real meaning and purpose in their lives.