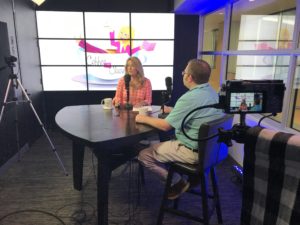 They call it "the sport of kings" because one of the first jockeys was a king! Yet horse racing has grown into a multi-billion-dollar industry enjoyed by millions all over the world.
Our guest today works at one of the premiere horse racing facilities in America. A native Texan and US Army veteran, he is also the product of a unique college program that has trained and prepared some of the industry's stars!
Tune in to learn more about the horse racing industry and Lone Star Park Grand Prairie!
You Might also like
Do you have a full-time job that pays the bills? Do wish you could do something else that would fuel a passion while earning extra money? My guest in this episode is Sue Moore who knows all too well what it means to find a "side hustle" to help s sometimes-depleted bank account.

One of the fastest growing segments in the American workforce are side earners–people who keep their regular, full-time job, and then find something to supplement that income with more. This episode covers:

How to find these opportunities

What the typical hurdles might be

Gives you some ideas on how much you can make

Describes what your daily routine might be like

"Side Hustle Sue" Moore is a "recovering banker" who successfully transitioned from the financial services world into this fast-growing segment of earners. She loves to tell her interesting story and is an inspiration to those who need that push to get started.

Hi and welcome to Coffee with Claire!

Today's theme is going to be about resilience.

The definition of resilience is the capacity to recover quickly from difficulties; toughness.

At the beginning of anything new, there's always excitement and an adrenaline rush as you build that something that has never been built before.

You figure it out, you put processes together, and pretty soon, you have a well-oiled machine that you understand and know you can depend on.

Then, one day, you hit a snag–something completely unexpected, and out of your control.  Everything you worked for is suddenly gone.  You're left standing at a crossroads.    Which road do you choose?

Path #1 is easy.  You quit.  You throw in the towel.  You decide that the thing that happened was a sign that you weren't supposed to do it anymore anyways.

Path #2 is you pick yourself up, gather the pieces you can find, and re-invent and re-create those that you can't.  It takes time and it takes money that you didn't think you had, but you find ways to make it work.

Not everyone will pick Path #2.  It may not be feasible.  But those who are successful know there's going to be up's and downs.  You're never 100% right, or profitable, or marketable or whatever other adjective you want to inject.  However, it's the people who have resilience in their blood that are willing to try again.  Maybe do it a little differently this next time around, but it's definitely worth it in their minds.

The resilience I am speaking about specifically is Coffee with Claire, and how I came to the conclusion that just because we hit a major bump in the road didn't mean we veered off the road, took the wheels off the bus, and walked home.  Would it have been easy?  Sure.  But I wasn't done, and I wasn't going to give up.

Stay tuned, and follow the path of our show to Coffee with Claire version "2.0"

On the first episode of Season 3 of the show, Claire Billingsley sits down with Paul Maynard, Claire's Communications Director, to talk about this new beginning. But where's the new show happening? What can you expect in the new season? And where in the world has Claire Billingsley been? Tune in to find out!

 

If you have ever felt stuck and wanted to make a dynamic shift in your life, this is the episode for you. Our guest discusses how to overcome burnout, find balance and thrive in your new life.

David Barnes is a co-founder at Peace Of Mind Overtures and co-author of Taming Your Dragons: Making Peace with Your Emotions and It's Just Commerce: Returning Balance to Business. He is the co-host of Peace Overtures Radio Podcast available on Speaker and iTunes.