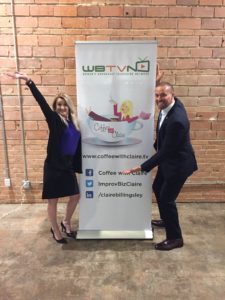 Do you know what a public insurance adjuster is? In this episode, meet Benny Write, an adjuster with Jansen International. He explains how he and his brethren can help you through the claims process with your insurance company.
Episode also features Von Daniel and Claire discussing their new series "Behind the Wall."
Podcast: Play in new window | Download
You Might also like
Have you ever had a bad customer experience? Odds are you have. Fact is, a lot of us tend to run into some rough customer service from time to time. And usually it's understandable, but it's never acceptable. And when it comes to poor customer service, the problems don't start with your customers – they start with your employees. Just ask Chris-James Cognetta. He's a consumer experience expert, and today on a brand new episode of Coffee with Claire, he's sitting down with Claire to talk about how customer service can be tailored at a management level, what that can mean for your employees, and how you can shift your thinking to have a customer-focused business at every level!

Do you know that creating financial security is more about mindset than strategy or skillset? In this next episode of the High-Impact Living Series, Dr. Ed and Claire talk about how to best shpe your life around these concepts.

Dr. Edward Lewellen holds an Honorary Doctorate of Divinity, Certified Master Executive Coach, Master NLP Practitioner, Master Life Coach and has an MBA in Management. He has consulted with businesses, universities, and Chambers of Commerce on value-adding business forums and topics.

Podcast: Play in new window | Download

Are you entertaining as well as informative?  Do you know what it takes to engage people and leave them wanting more?  Sir Earl and Claire talk about the value of being an entertainer as well as a communicator.

Sir Earl Toon achieved notoriety with the very popular band Kool & The Gang.  The founder of YMO Enterprises, Sir Earl strives to deliver the highest quality of music entertainment to a worldwide audience.