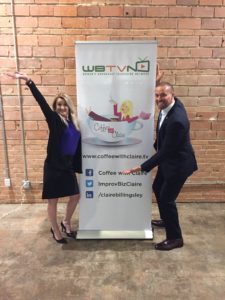 Do you know what a public insurance adjuster is? In this episode, meet Benny Write, an adjuster with Jansen International. He explains how he and his brethren can help you through the claims process with your insurance company.
Episode also features Von Daniel and Claire discussing their new series "Behind the Wall."
Podcast: Play in new window | Download
You Might also like
Do you know that creating financial security is more about mindset than strategy or skillset? In this next episode of the High-Impact Living Series, Dr. Ed and Claire talk about how to best shpe your life around these concepts.

Dr. Edward Lewellen holds an Honorary Doctorate of Divinity, Certified Master Executive Coach, Master NLP Practitioner, Master Life Coach and has an MBA in Management. He has consulted with businesses, universities, and Chambers of Commerce on value-adding business forums and topics.

Do you know your key messages? Do you how best to present yourself physically and verbally to a listening and watching public?  Claire speaks today with Laura Lewis, a polished media professional on what we need to consider as we shape our public persona.

Laura Lewis is a speaker, a radio and TV personality of Z Living, as well as a producer, writer, and clinical hypnotherapist.  Laura has a degree in Food and Nutrition from the University of North Texas.  She is founder and president of Odyssey Star Media, a production, publishing and promotion company dedicated to changing the world for the better, one person at a time through a multitude of communication channels.

Podcast: Play in new window | Download

WomenOnTV network co-founder Jayne Rios stops by to talk about how empowered women are making a difference.

Jayne Rios is a veteran marketing and business professional based in Dallas.  With many eyars' experience in the video production world, she has started, managed and then sold several video and marketing companies.  She is the co-founder of WomenOnTV, (AKA, WBTVN).