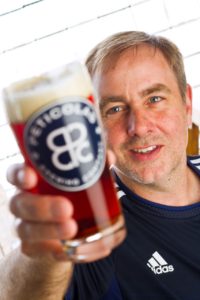 What have you done (or are you doing) to live boldly and live your life authentically. Today's guest, Michael Peticolas chose to live his dream to become one of the premier craft beer brewers in the nation.
Michael Peticolas is a fifth-generation Texas trial attorney and owner/operator of Dallas's Peticolas Brewing Company. After practicing law for a decade, Michael turned to his passion for craft beer.  Since 2011, Peticolas Brewing Company has won numerous local and national awards, and is an established craft beer industry leader in Texas.
You Might also like
We are all living in an age of the internet of things, big data, artificial intelligence and data security.

What is the advantage of marrying technology and healthcare?

When it comes to our health, using these technologies and concepts to improve and enhance our daily lives only seems natural.  So what does it take to have wearable bio sensors a part of our day-to-day lives? What advantage is it to have all of our health history in a digital form?

Our guest is Pete Ianace, Senior Vice President of Corporate Development at Vital Tech Innovations, and President of ComCam International.  Pete caught us up with the impact of technology on the future of healthcare. Pete knows technology and he knows healthcare.

Tune in to hear the latest on the intersection of these two fields.

What do you need to do to take control of how you deal with the professional relationships in your life and improve your professional development potential?  Dr. Ed discusses with Claire how to come up with the best approach for you using his proven techniques.

Dr. Edward Lewellen holds an Honorary Doctorate of Divinity, Certified Master Executive Coach, Master NLP Practitioner, Master Life Coach and has an MBA in Management. He has consulted with businesses, universities, and Chambers of Commerce on value-adding business forums and topics.

Podcast: Play in new window | Download

Are you more apt to wade into shallow water than to dive deep into the sea? Sometimes we must—must – push ourselves in order to transform into the person we are supposed to be. We all have a personal journey that is ours alone.

My guest today has navigated her own personal journey through waters of many depths. She knows only too well when and why to step into deeper waters.

Join me and Rachel Graham as we delve into her mission of helping educate people about overcoming huge obstacles to find real meaning and purpose in their lives.