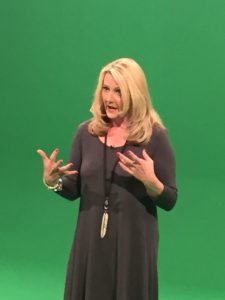 Do you know the concept of "Yes, and.." from improvisational comedy? In this episode, recorded at a lunchtime networking group in Dallas, Claire shows the crowd (and you) just what it takes to engage people and make conversation and connecting really work. A great example of dynamic speaking and people engagement.
Podcast: Play in new window | Download
You Might also like
Are you listening and are you really hearing what people are saying?  Today's guest talks with Claire about how he spends time listening to business leaders and helps then translate their desires into solid business decisions and actions.

David Rose works with business leaders around the world to help them substantially grow their revenue and profits with innovative strategies and tactics. He has helped deliver over $2 billion in revenue to his clients using the proprietary methodologies he has designed.  His book, "Overcoming the Universe Of Rejections," empowers people to learn and overcome all the categories of rejection they will face throughout their lives.

Podcast: Play in new window | Download

Claire and her guest, Brian Dobbs, discuss what it takes to find a coach and how to maximize the impact this person can have on you and your organization.

Brian Dobbs is a professional speaker and business coach, who cut his teeth in the ministry.  His company, Relavate, works with business-to-business and business-to-consumer organizations to help them find direction and establish continuity.

Have you ever had a bad customer experience? Odds are you have. Fact is, a lot of us tend to run into some rough customer service from time to time. And usually it's understandable, but it's never acceptable. And when it comes to poor customer service, the problems don't start with your customers – they start with your employees. Just ask Chris-James Cognetta. He's a consumer experience expert, and today on a brand new episode of Coffee with Claire, he's sitting down with Claire to talk about how customer service can be tailored at a management level, what that can mean for your employees, and how you can shift your thinking to have a customer-focused business at every level!