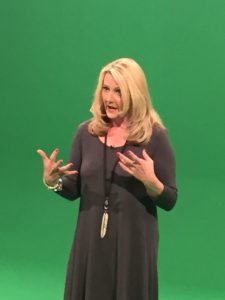 Do you know the concept of "Yes, and.." from improvisational comedy? In this episode, recorded at a lunchtime networking group in Dallas, Claire shows the crowd (and you) just what it takes to engage people and make conversation and connecting really work. A great example of dynamic speaking and people engagement.
Podcast: Play in new window | Download
You Might also like
hile we think of wearable technology strictly in terms of devices for humans, that's no longer true. Horses are now the beneficiary of advances in sensor technology and the trend is gaining momentum in 2017.  There are several new companies jockeying for position in the equine space. PonyUp Technologies is one of these companies, and their technology has features that sets it apart from the rest.

Sharon Caswell has a software engineering background and life-long interest in horses Sharon holds the reins at PonyUp Technologies, which has developed a new device called VetCheq.. Her background in software development, team leadership, product development and marketing gave her all the skills needed to give strategic and tactical guidance for developing a product from scratch.

Podcast: Play in new window | Download

Do you know that creating financial security is more about mindset than strategy or skillset? In this next episode of the High-Impact Living Series, Dr. Ed and Claire talk about how to best shpe your life around these concepts.

Dr. Edward Lewellen holds an Honorary Doctorate of Divinity, Certified Master Executive Coach, Master NLP Practitioner, Master Life Coach and has an MBA in Management. He has consulted with businesses, universities, and Chambers of Commerce on value-adding business forums and topics.

Learning to communicate effectively and exposing the world to the real you is the subject of today's episode. While IT is a key part of all of our business lives, we need to realize it is really only a tool to meet the goals we've set for ourselves.

Paola Saibene, CEO of Neuropeach Labs,  has years of experience in IT transformation and business Innovation, having held multiple CIO/ CTO/ CSO/ COO positions in government and in the private sector, including multi-billion dollar enterprises, including the State of Hawaii. She is a pioneer in transforming and innovating in organizations under tremendous scrutiny.