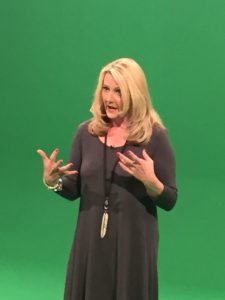 Do you know the concept of "Yes, and.." from improvisational comedy? In this episode, recorded at a lunchtime networking group in Dallas, Claire shows the crowd (and you) just what it takes to engage people and make conversation and connecting really work. A great example of dynamic speaking and people engagement.
Podcast: Play in new window | Download
You Might also like
The ultimate sales guy talks with Claire on how to not only survive but to thrive and be the best you can with the tools and ability you have within you.

Scott Schilling is The Significance Expert, committed to providing inspired answers to today's challenges through his TV show, podcasts, speaking, training, consulting and coaching. Scott helps individuals and organizations systematically grow personally, professionally, financially and spiritually. Scott brings a unique combination of 35+ years of life experience in sales, marketing and training to corporations, business owners, entrepreneurs and individuals.

Podcast: Play in new window | Download

Can you tell your own story?  Do you know where to start and what does it take to have an impact?  Claire and Steve talk about his story as an illustration of how to best tell a difficult and complex story.

Steve Stoler is a veteran Emmy Award winning television news reporter, whose career has spanned more than three decades at six television stations in Georgia, Nebraska, North Carolina and Texas. Steve has covered almost every type of news story imaginable. Throughout his career, Steve has been an eyewitness to history. After 34 years in TV, Steve is now the City of Plano, Texas' Director of Media Relations.

Podcast: Play in new window | Download

Do we REALLY believe in what we do? Is belief an integral part of your life? In today's episode, the first in a series, we start our discussion of the BOOTS (believe, overcome, own, trust and serve) method of a belief system.

Robi Ley is the owner and lead communication coach at WordCrafter Consultants. Robi believes that every person has a story. Her business is about helping people tell their story.