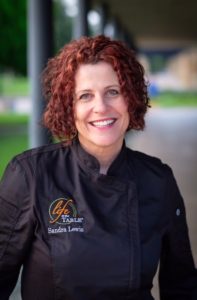 Another inspiring story of someone who is living their passion and dream of doing what they love for a living.
Sandra Lewis is the founder of Life At The Table. She asks the most important question of the day: "What's for dinner?" Life At The Table educates, inspires and motivates people to cook and create community around the table and at home.
Podcast: Play in new window | Download
You Might also like
Learning to communicate effectively and exposing the world to the real you is the subject of today's episode. While IT is a key part of all of our business lives, we need to realize it is really only a tool to meet the goals we've set for ourselves.

Paola Saibene, CEO of Neuropeach Labs,  has years of experience in IT transformation and business Innovation, having held multiple CIO/ CTO/ CSO/ COO positions in government and in the private sector, including multi-billion dollar enterprises, including the State of Hawaii. She is a pioneer in transforming and innovating in organizations under tremendous scrutiny.

Podcast: Play in new window | Download

Everyone has had some kind of adversity in their life at some point. Some things are extremely visible to others; sometimes it's not so easily seem by a bystander.  However, no matter what way it shows up, it still can derail you.  It's a choice to face it and figure out a way to work it out.  Sometimes we can figure it out on our own; sometimes we need some help.

Our guest today, Todd Drake, has overcome some tremendous obstacles and thrived on the other side.   He is the president and owner of Todd Drake Diamonds.  A veteran of the corporate world, he got away from the grind and helped his family in areas where he was trained, to help them take their business to the next level.  A competitive athlete, too, Todd enjoys a great game of baseball when he can pry himself away from his business.

Podcast: Play in new window | Download

Do you have a feeling for your feelings? Do you know how to control, your emotions? How intuitive are you and how can you make it work for you?

Shelby (Miles) Carino is a psychic and seer who helps people to understand who they are and how best to awaken within themselves the power to overcome any obstacle.