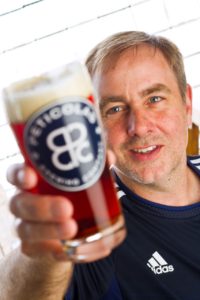 What have you done (or are you doing) to live boldly and live your life authentically. Today's guest, Michael Peticolas chose to live his dream to become one of the premier craft beer brewers in the nation.
Michael Peticolas is a fifth-generation Texas trial attorney and owner/operator of Dallas's Peticolas Brewing Company. After practicing law for a decade, Michael turned to his passion for craft beer.  Since 2011, Peticolas Brewing Company has won numerous local and national awards, and is an established craft beer industry leader in Texas.
Podcast: Play in new window | Download
You Might also like
Do you know what it takes to overcome stress? Do you have the tools and techniques you need? Today's episode gives you some tips and ideas on how to make yourself feel better in stressful situations.

Mary Monttein Alonso is a transformational life coach, certified facilitator, brain mechanic and energy healer. She knows what it takes to realign the misaligned in your life.

Podcast: Play in new window | Download

Do you know the concept of "Yes, and.." from improvisational comedy? In this episode, recorded at a lunchtime networking group in Dallas, Claire shows the crowd (and you) just what it takes to engage people and make conversation and connecting really work. A great example of dynamic speaking and people engagement.

Podcast: Play in new window | Download

Hi and welcome to Coffee with Claire!

Today's theme is going to be about resilience.

The definition of resilience is the capacity to recover quickly from difficulties; toughness.

At the beginning of anything new, there's always excitement and an adrenaline rush as you build that something that has never been built before.

You figure it out, you put processes together, and pretty soon, you have a well-oiled machine that you understand and know you can depend on.

Then, one day, you hit a snag–something completely unexpected, and out of your control.  Everything you worked for is suddenly gone.  You're left standing at a crossroads.    Which road do you choose?

Path #1 is easy.  You quit.  You throw in the towel.  You decide that the thing that happened was a sign that you weren't supposed to do it anymore anyways.

Path #2 is you pick yourself up, gather the pieces you can find, and re-invent and re-create those that you can't.  It takes time and it takes money that you didn't think you had, but you find ways to make it work.

Not everyone will pick Path #2.  It may not be feasible.  But those who are successful know there's going to be up's and downs.  You're never 100% right, or profitable, or marketable or whatever other adjective you want to inject.  However, it's the people who have resilience in their blood that are willing to try again.  Maybe do it a little differently this next time around, but it's definitely worth it in their minds.

The resilience I am speaking about specifically is Coffee with Claire, and how I came to the conclusion that just because we hit a major bump in the road didn't mean we veered off the road, took the wheels off the bus, and walked home.  Would it have been easy?  Sure.  But I wasn't done, and I wasn't going to give up.

Stay tuned, and follow the path of our show to Coffee with Claire version "2.0"

On the first episode of Season 3 of the show, Claire Billingsley sits down with Paul Maynard, Claire's Communications Director, to talk about this new beginning. But where's the new show happening? What can you expect in the new season? And where in the world has Claire Billingsley been? Tune in to find out!