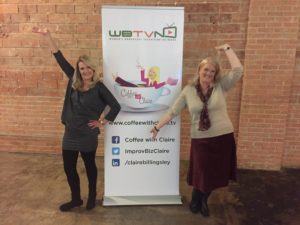 Everyone has a story, don't they?  Some are really linear and you can see the progression and their path commitment from a young age.  Others are all over the place – sometimes there doesn't seem to be any rhyme or reason to how they landed where they are.
Stories are "written" everyday, but not always documented.  Do you have a story that you need to share?  Do you know how to get that idea out of your head and onto paper?  Join us today as we learn about the art of storytelling, and the process of publishing.
Our guest for this episode is Robi Ley, a certified life coach, communications coach, professional speaker, author of four books, and an active member of Toastmasters International.
http://coffeewithclaire.tv/wp-content/uploads/DSC_1048-Edit-2.jpg
2822
2016
Admin
http://coffeewithclaire.tv/wp-content/uploads/2016/06/small-logo-300x238.jpg
Admin
2018-02-04 17:49:01
2018-02-04 17:49:01
Season 1, Episode 38: Everybody has a story? With Guest Robi Ley